Facing Death Six Days a Week
ARTHINGTON, Liberia—What do you say to a mother who just lost her child? To a neighbor who just lost her best friend? How do you comfort them before you carry away the body of their loved one in a black bag in the back of a dark green pick-up truck? Varbah Dolley faces these scenarios six days a week. Varbah is tough – like most Liberian women who have lived through two civil wars. She is now fighting another a war, against an enemy she can't see.
Varbah is a member of a Liberian Red Cross burial team. Funding from USAID and support from the U.S.-based NGO Global Communities is providing burial-team support activities in all 15 counties of Liberia, as well as engaging with communities to share information on proper hygiene practices and preventing transmission through workshops, community meetings, and radio campaigns.
From the moment they start showing symptoms, someone who has contracted the Ebola virus is highly contagious. The virus is spread through direct contact with bodily fluids including vomit, diarrhea, blood, and saliva. After the person dies, the body is even more contagious.
In Liberia, rituals to prepare bodies for burial are contributing to the rapid spread of the virus. The dead body is typically washed and dressed by multiple people before being carried to a grave — a ripe situation for the virus to spread. Graves are also important landmarks for Liberians. Decoration Day, a government holiday, is dedicated to visiting and decorating family graves. It's where they can speak with their ancestors and commune with them. As the burial team prepared to take one body, I heard a woman wail: "I will have nothing to decorate on Decoration Day."
To stop the spread of Ebola, burial teams have been mobilized across Liberia to provide safe disposal of contagious bodies, which often includes cremation. With the epidemic on the rise, every dead body is now considered an Ebola body. Varbah's team leaves central Monrovia every morning to respond to reports of deaths. These calls often lead them to communities deep in rural Liberia. Last week, we drove for more than two hours over rough dirt terrain to reach Arthington – which also happens to be the birthplace of former warlord Charles Taylor.
Varbah climbs out of the mud-splattered jeep and calmly walks over to a crowd with her notebook and pen. She jots down as much information as possible about each patient and their family for the report she submits every evening. "I know what you people are going through. But take courage," she counsels the family of 6-year-old Phelica as they describe the events leading up to her untimely death. Phelica became inexplicably sick while playing outside. Her mother carried her to multiple hospitals for treatment. After spending a couple days at one hospital where they ran several lab tests, the doctor said she would not survive and Phelica died on the way home. Her father, who had cared for her, later began exhibiting symptoms of Ebola. A health team transported him to an Ebola treatment unit the day before we arrived.
Like many in West Africa, when it comes to the current public health crisis, Phelica's family is suspicious."You don't know what killed the person because they are hiding the truth from us," Varbah tells me later in the car.
Melvin Payoh, the assistant team leader of the burial team, suits up like an astronaut in the middle of the hot, rural village as onlookers gather and stare. A few minutes after disappearing past the first row of earth-walled homes, the team returns carrying a black bag. Everything about this Ebola outbreak feels unreal until men in white spacesuits walk through a town with a body-filled bag. A mother wails, "My baby, O. My baby, O." Then it is painfully real. Numbers have names. Tears flow. Relatives fall on the ground. Hands flail. Melvin and his team lay Phelica's little body in the back of a dark green pick-up truck.
I think Varbah and Melvin have the hardest job fighting this Ebola outbreak. They face death six days a week in order to save more lives. When I asked Varbah why she applied for the position she replied, "I do this for my country."
First Look at a New Hospital for Ebola Aid Workers
HARBEL, Liberia—"Where have you done this before?" USAID Administrator Raj Shah asked on October 15, as he stepped through the taupe colored tent flap into the new 25-bed critical care hospital being built to treat all health care and aid workers who fall ill to Ebola. "Nowhere, sir. No one has," replied an army engineer.
Historically, mobile medical units like this one provide versatile trauma care for military operations. In this case, the Department of Defense (DoD) and the U.S. Public Health Service (USPHS) customized the Monrovia Medical Unit to treat highly contagious Ebola patients.
Once complete, the hospital will be operated and staffed by a team of 65 specialized officers from the USPHS Commissioned Corps – an elite uniformed service with more than 6,800 full-time, highly qualified public health professionals, serving the most underserved and vulnerable populations domestically and abroad.
The Commissioned Corps will deploy clinicians, administrators, and support staff to Liberia to treat health care workers with Ebola, and to continue efforts by USAID, DoD and international partners to build capacity for additional care in Liberia.
Powering The Ebola Response: Monrovia's Island Clinic
MONROVIA, Liberia—One of the saddest things about the Ebola outbreak in Liberia is the inability for many patients to get treatment. In Dolo Town recently, I watched a father carry his ailing son in a wheelbarrow to the clinic for treatment, but they did not have the capacity to help. He had been calling the government hotline for four days to no avail. A team of NGO workers proceeded to call the hotline again and a personal ambulance, but they also couldn't get any help. All the treatment centers were full. In the end, the clinic sent him and his son home along with two other patients. Different versions of the same story have repeated across Monrovia for weeks. Liberians, trying to do the right thing, called the hotline and drove their loved ones to the hospital only to be denied entrance.
After hearing too many of these stories as I have documented the unfolding Ebola crisis over past weeks, the opening of another Ebola treatment unit (ETU) was a huge relief. With the help of USAID, the Liberian Government and the WHO opened the 100-bed facility on Sunday, September 21. To power the treatment center, USAID provided two generators, amongst other supplies. These generators are vital to the functioning of the clinic by providing power for lights, pumps for water, and washing machines to clean scrubs worn by health care workers under their personal protective equipment (PPEs).
Miata, a nurse we met, said all the health care workers ran from nearby Redemption Hospital, the largest government-run hospital in Liberia, at first. A doctor and several nurses on staff became infected with Ebola and died as the outbreak was beginning in Liberia. But when a team of Ugandan health care workers arrived in Liberia who had fought previous Ebola outbreaks in their own country, they called them together for a training workshop.
"That workshop inspired me to come back. If we don't help the patients, who will?" Now, she is not afraid because she can cover herself with personal protective equipment before she enters the "hot zone" to provide food for patients fighting the Ebola virus. This new Island Clinic facility is helping. But many more beds and qualified health care workers are needed to meet the needs of growing numbers of patients.
The Fight on Ebola Continues in the Lab
HARBEL, Liberia—In a heavily forested area about 65 miles east of Monrovia, Liberia, statues of stone monkeys keep vigil over a sprawling campus of buildings that has seen better days. The Liberian Institute for Biomedical Research (LIBR) was established in the 1970s as a premier research facility to develop scientific breakthroughs for a variety of viral infections, including hepatitis. The rusted, empty animal cages serve as a reminder of the past research conducted here.
Now, the facility finds itself drawn into an epidemiological battle against another outbreak, this time, the Ebola virus. LIBR is one of only a few laboratories in Liberia where Ebola specimens are sent to be tested. Due to the spiralling number of Ebola cases in the region, boosting LIBR's laboratory testing capacity has been a top priority for a team of medical and disaster experts with the U.S. Centers for Disease Control and Prevention, the U.S. Army Medical Research Institute of Infectious Diseases (USAMRIID), the U.S. National Institutes of Health, and the U.S. Agency for International Development (USAID).
"People are dependent on these test results," said Gary Wes Carter, an emergency management chief with USAMRIID. "The longer a sample sits here, the longer a doctor in the field goes without an answer needed to make critical decisions about patient care."
Since April, American laboratory and disease control experts have been working at LIBR to process Ebola samples and train local technicians. When the rate of Ebola infections spiked in June, more equipment and personnel were brought in. As a result, LIBR's lab processing capacity almost doubled from 40 specimens a day to more than 70. The goal is to eventually be able to test approximately 100 specimens a day, with assistance from the USAID-led Ebola Disaster Assistance Response Team (DART) and the USAID Mission in Liberia.
USAID's disaster response and development experts are working to upgrade the laboratory facility by improving specimen containment, providing improved internet access, renovating hygiene facilities, repairing plumbing, and working with contractors to rewire the building so that it receives a steady source of electricity.
"There are a number of projects underway," said DART Logistics Officer Sergio Solis. "Working together, we could make LIBR not only more efficient, but more sustainable for the Liberian scientists and laboratory technicians who will be running the facility."
Laboratory experts with the USAMRIID agree that partnerships are the key to combatting the Ebola outbreak.
"We couldn't have made the lab sustainable in the long-term without the assistance of USAID," said Carter. "I have never been to an outbreak response where there has been this much intergovernmental collaboration. This has been amazing."
We have to demystify Ebola
MONROVIA, Liberia—Before the United States deployed an Ebola Disaster Assistance Response Team (DART), there was Justin Pendarvis. As one of the Public Health Advisors at USAID's Office of U.S. Foreign Disaster Assistance, Justin was the first disaster expert tapped to travel to West Africa and assess the growing Ebola situation for USAID.
In early July, Justin traveled to Guinea – home of the epidemic's 'patient zero.' His mission: to observe and gauge the growing outbreak, understand the coordination at play for the response, and identify key challenges.
In Guinea he observed the protocols required to run an Ebola treatment unit (ETU) at one of Medecins sans Frontieres' first facilities – an intense operation out of the capital city, Conakry. The following week he headed to Sierra Leone where frightening narratives were emerging from Kenema, one of the country's largest towns hit hard by the virus.
"People were working around the clock, but more Ebola cases kept popping up," recalls Justin. Health care workers were also falling ill.
By the time Justin landed in Liberia a week later it was clear that a significant amount of resources were needed to support West Africa and help save lives. Weak public health systems fell prey to the disease, and more help was needed. With key insight provided by Justin, USAID stood up the Ebola Disaster Assistance Response Team (DART) – the team of roughly 30 people from across the U.S. Government leading and coordinating the U.S. Ebola response.
Since then there has been an "evolution of thought," says Justin, as everyday USAID, alongside the affected countries and international community continue to learn how best to respond to this unprecedented crisis and fight the world's largest Ebola outbreak in history.
In Liberia's capital Monrovia, most residents know somebody who has been affected by the epidemic. Justin, like many West Africans, finds Ebola and this humanitarian response to be very personal. He first arrived in Liberia in 2009 and considers it his second home. His first three-and-a-half years in country were spent working with a Liberian NGO to strengthen and rebuild the country's health infrastructure — systems that had been destroyed by decades of brutal civil war. But progress was being made.
Five years ago, only 11 percent of women in Liberia were delivering babies at health clinics, putting most — those delivering at home often in unsanitary conditions – at great risk for complications and death. Liberia had one of the globe's highest maternal mortality rates.
Fast forward to last year, where more than half of Liberian women were safely delivering at hospitals and clinics – a significant health breakthrough.Although maternal mortality is still high, the numbers have started to fall.
Today, in the face of Ebola, any woman who comes to a hospital to deliver her baby and is bleeding becomes untouchable. Staff hesitate to provide medical care due to fear and risk of contracting the virus, which is transmitted through contact with infected bodily fluids.
"We have to demystify Ebola, it's not a superhuman and magical thing. We know how to control it, and we know how to keep people safe – but there is a crippling fear."
Justin says that many of the challenges in responding to the Ebola crisis are fighting that exact fear, and arming West Africans with knowledge to understand the virus and learn how to weave protective measures into their daily life and cultural traditions.
As USAID continues to work toward bringing more Ebola treatment units online, the DART is also prioritizing messaging campaigns that educate communities on how to protect themselves. These efforts have already proven to be life-saving.
"Liberia is definitely a special place to me. I feel lucky to be in a position where I can hopefully contribute, and am proud of the momentum we're now seeing – it's this impact and the collective commitment alongside the Liberian people to fight Ebola that drives me forward every day."
Liberia Gripped By Ebola's Many Tentacles
MONROVIA, Liberia—While the Ebola virus is having devastating impacts on Liberia's health system, beyond the spotlight it is having an equally damaging impact on the economy. We have yet to know the full extent of the impacts, but the warning signs are already showing.
Sales have plummeted in Waterside Market—an economic hub in downtown Monrovia where Liberians trek to buy commodities like fresh fish from the Atlantic Ocean, school shoes, or used household goods imported from America. And at this time of year, many parents should be back-to-school shopping. However, with all of Liberia's schools closed and many parents now jobless, vendors wait for days sometimes before selling a single ware.
I stopped by the Ministry of Health and Social Welfare one morning and met Emmanuel Patrick, 55. He was an instructor at the Salvation Army School until the government closed the schools due to the epidemic. Now, to support his six children, he travels to the Ministry every morning in the hopes of obtaining a day labor job working in the warehouse. But there is not enough work, and the income doesn't cover the cost of increasing living expenses.
You can find stories like Emmanuel's on every corner of the nation's capital and throughout Liberia: Ordinary Liberians, who, while not infected with the virus, are suffering its impacts.
Andrew Hill: "There's no standard blueprint for an Ebola treatment unit."
MONROVIA, Liberia—The buzzwords here in Monrovia are "unprecedented" and "exponential." Everything about the Ebola epidemic in West Africa is unprecedented as it spreads exponentially.
U.S. Army civil engineer Andrew Hill is part of the USAID-led Disaster Assistance Response Team (DART) tasked with implementing an unprecedented response to the Ebola crisis.
An essential part of that response is constructing and staffing new treatment facilities that can isolate and care for the growing number of people infected with the virus.
On the ground in Liberia, one of the first tasks by Andrew and the U.S. military engineers was to conceptualize and design an ETU. Working hand-in-hand with members of the Armed Forces of Liberia (AFL), they consulted the experts with a gold standard ETU model: Médecins Sans Frontières (MSF) and the World Health Organization (WHO). Building off of their expertise, they tailored the designs to create Department of Defense and AFL-specific versions, which could be built and implemented with their resources.
The plans started with a hand-drawn sketch that Andrew created while driving in a car on his way to various sites. That sketch formed the basis for what would become a full concept and material list needed to begin ETU construction.
The U.S. Army Africa engineers, led by Lieutenant Colonel Scott Sendmeyer, pooled their collective professional engineering knowledge and tools in order to continue developing and finalizing the design, and to determine the remaining requirements needed for implementation.
The first site to use the design is scheduled to begin construction imminently — and this model will be replicated and constructed across Liberia by a team of 150 AFL engineers to help save lives and stop the spread of Ebola.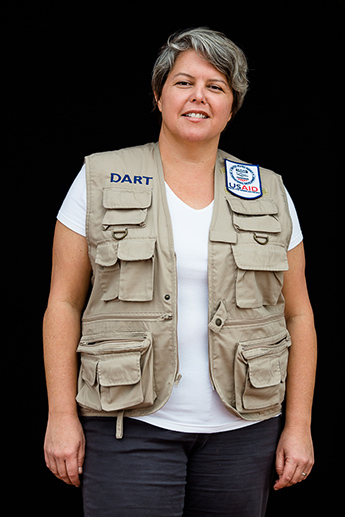 René Van Slate: "I've pretty much done everything that terrifies me… except for Ebola"
MONROVIA, Liberia—A veteran in humanitarian disaster assistance, René Van Slate is afraid of nothing… nothing except Ebola. She was on the ground after the flooding in Thailand in 2011, typhoon Bopha in the Philippines in 2012, the Republic of Marshall Islands drought in 2013, and typhoon Haiyan in the Philippines last year. Now, on her fifth disaster response team René explains her trepidation, "Ebola is microscopic, it's covered in mystery and it's incredibly deadly." But, René is here with USAID facing her greatest fear on the front lines of the Ebola response in Liberia.
René touched down with the first crew from USAID's Disaster Assistance Response Team (DART) at the beginning of August. Since then, she has liaised between the military on the ground and the U.S. civilian team, advising and coordinating logistics to best utilize military assets and personnel. Specifically, she is working on Operation Liberty with the Armed Forces of Liberia (AFL) supported by U.S. forces to build Ebola treatment units across Liberia.
One of the greatest challenges on the ground is that almost no one had ever dealt with an Ebola outbreak other than Médecins Sans Frontières (MSF) and those were much smaller and rural. "The whole humanitarian community is learning Ebola," René says. "Though [building] an Ebola treatment unit is simple, like rocket science, it must be done perfectly every time."
In an operation as large and complex as the current Ebola response, it takes a team of people working day in and day out processing requests to arrange for all the logistics to get materials transported, imported and delivered to where they are needed.
The best part of her job is days like today, when requests are fulfilled, referring to Thursday's arrival of 9,000 community protection kits—a joint effort of UNICEF, the Paul G. Allen Family Foundation and USAID—as part of the response to help Liberians fight Ebola. Each kit includes biohazard bags, soap, personal protective equipment, and gloves. They will be distributed to Ebola Community Centers across Liberia in partnership with UNICEF.
Paloma and Alisha: The Information Gurus Behind the U.S. Ebola Response
MONROVIA, Liberia—Though Alisha McMichael and Paloma Clohossey's jobs on the Ebola Disaster Assistance Response Team (DART) aren't as high profile as the health care workers who suit up in protective gear everyday, one could argue that their role is just as vital to the U.S. response.
"Alisha and Paloma bring all the threads of the operation together for reporting and information collection — they know the ins and the outs of the response as a whole," said Bill Berger, the Ebola Disaster Assistance Response Team Leader.
They are the DART's Information Officers – also known as 'IOs.': the information gurus who compile, collate and verify all the information about the U.S. Government's Ebola response efforts and the crisis at large. After absorbing every last detail and fact, they distribute them to team members on the ground and back to Washington, D.C. so that everyone is on the same page and has the correct information they need, when they need it.
In a disaster response environment – especially one like the Ebola epidemic, where everyday the international community is navigating new territory – information is critical. Alisha and Paloma constantly take in and filter information to ensure they're up to date on the latest — no easy feat given the ever-evolving situation as the crisis progresses and the U.S. response gains momentum.
In fact, Alisha has been dubbed the DART's 'sync-master,' responsible for tracking daily the progress of Ebola treatment units, community care centers, trainings for health care workers, burial teams, airlifts of relief supplies, and other response efforts – following the military's Sync Matrix model. Meanwhile, Paloma writes daily updates about the situation on the ground to inform Washington and communicate key gaps, challenges and successes.
Being a DART IO requires a lot of attention to detail and long days, but working 24/7 doesn't get them down.
"The best part by far," says Paloma, "is getting to have the opportunity to do work that feels meaningful. I've been given a chance to contribute to something that I believe in."
Adds Alisha, "This is a great team, and I know everyone gives their best everyday. That feels good."